Turnkey design & build
Work with a single point of contact who takes responsibility for design, strategy, space planning, costing and construction.
Stage 1: Consult

We start with your needs and develop a thorough understanding of your business requirements to create a workplace strategy and office design that delivers to stakeholder expectations.

Stage 2: Design

Whether you want state-of-the-art or just functional, our interior design team will create the best user experience for your people. We consider everything from aesthetics and acoustics, to furniture and function.

Stage 3: Manage

We take care of everything from permits to construction, project handover and move management. We manage contractors, suppliers and spending to keep your project on track and on budget.

Stage 4: Build

We ensure safety and quality planning from the start to avoid risks, overruns and setbacks. Construct more than a space - create an experience.
End to end management of your office fit-out
Our turnkey design and build specialists operate Australia-wide and are ready to design and deliver an interior fit-out that will transform your space, inspire your employees and impress your clients.

We take the hassle out of managing your commercial office build and can look after everything from space planning to interior design, appointing and managing contractors, furniture selection, project construction and move management.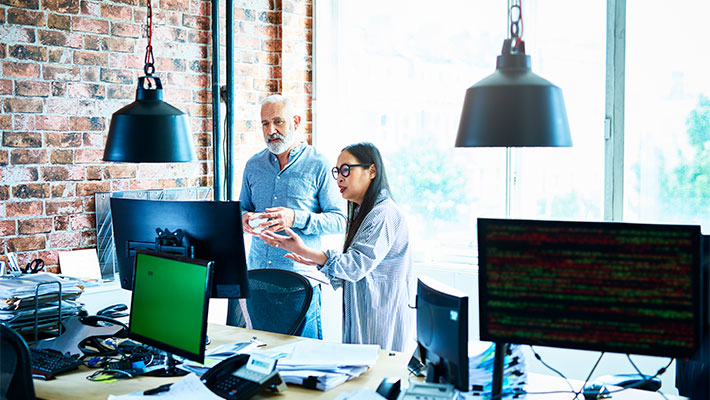 Office renovation guide
Not quite sure where to start with your office fit-out? This step by step guide is packed with tips and tricks to help you manage your office design and build project.
Related solutions
Our in-depth understanding of the realities and complexities of real estate enable us to design and deliver a workplace strategy aligned to your business ambitions.
Explore and evaluate your office design using immersive technologies that bring the design to life. With 3-D plans and virtual walk-throughs you can understand how the new office design will work before starting to build.
We take stock and analyse how you work today and how you want to work tomorrow, to create a set of standards that define your office design now and in the future.
Transform the spaces where people live, work and play, and realise your strategic goals beyond completing your project on time and within budget.
Ensure safety and quality planning from the start to avoid risks, overruns and setbacks. Construct more than a space - create an experience.
Accomplish strategic and financial goals for your buildings, assets, and talent with comprehensive, flexible facilities strategies and solutions.
Take the stress out of managing your office build with a turnkey design and build solution.
We work with companies of all sizes to provide end-to-end design and build delivery for your office fit-out.

Send an enquiry for a free project consultation. Alternatively, call Anthony Walsh, Head of Workplace Design directly on +61 407 554 773 to discuss your next project.
PRIVACY NOTICE
Jones Lang LaSalle (JLL), together with its subsidiaries and affiliates, is a leading global provider of real estate and investment management services. We take our responsibility to protect the personal information provided to us seriously.
Generally the personal information we collect from you are for the purposes of dealing with your enquiry.
We endeavor to keep your personal information secure with appropriate level of security and keep for as long as we need it for legitimate business or legal reasons. We will then delete it safely and securely. For more information about how JLL processes your personal data, please view our privacy statement.