Brown-Forman
An office and showroom that channels the brand essence of this luxury wine and spirit maker mixed with local cultural flavour.
Location
South Island Place, Wong Chuk Hang, Hong Kong
Layout
Offices and open plan with some shared desks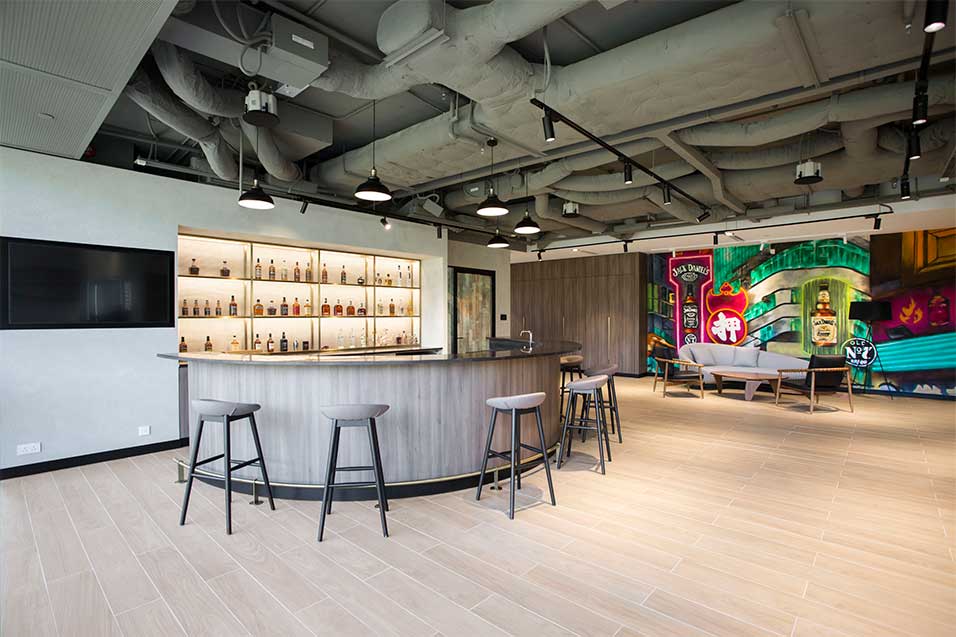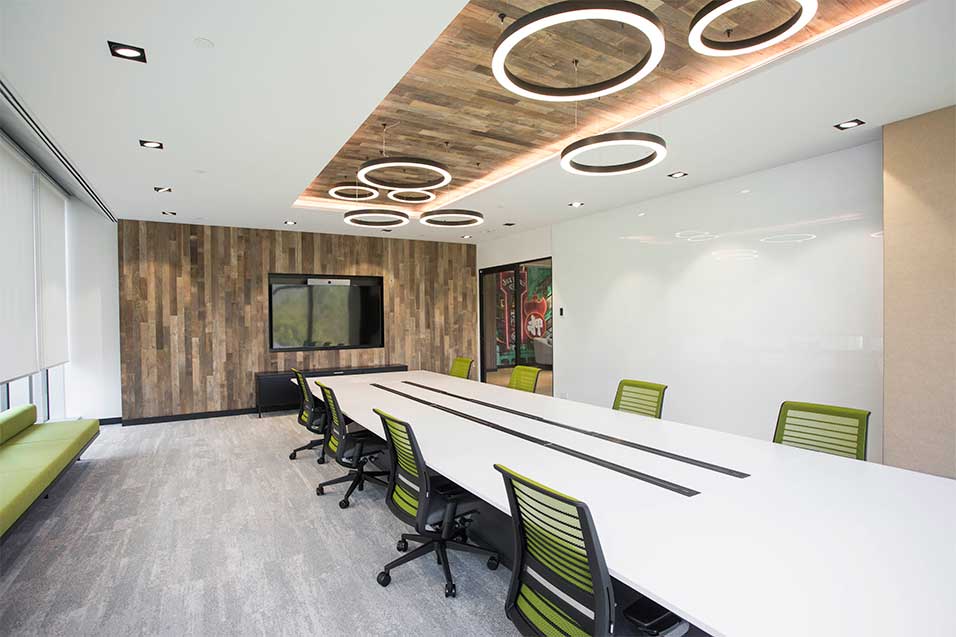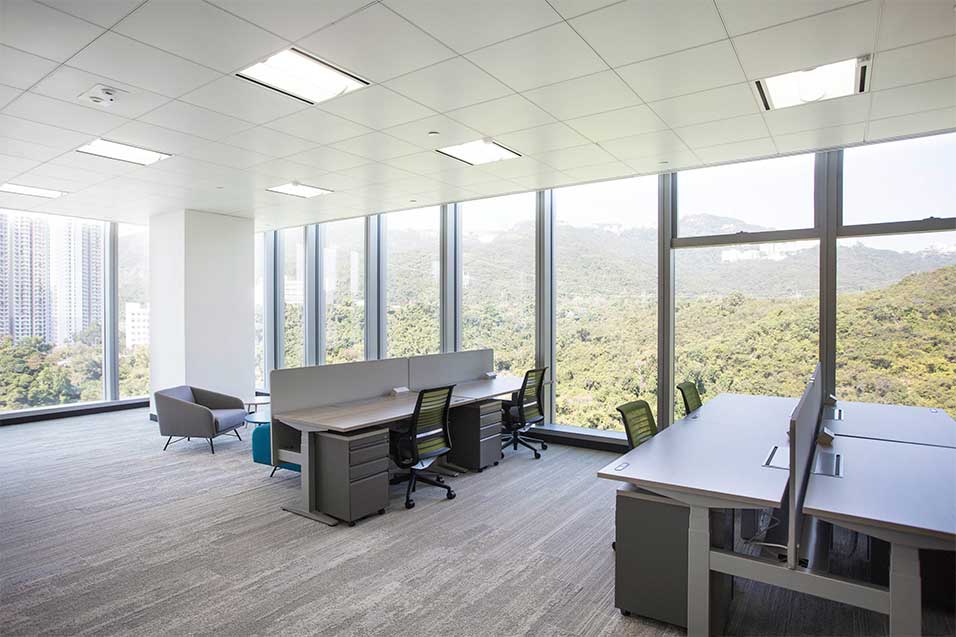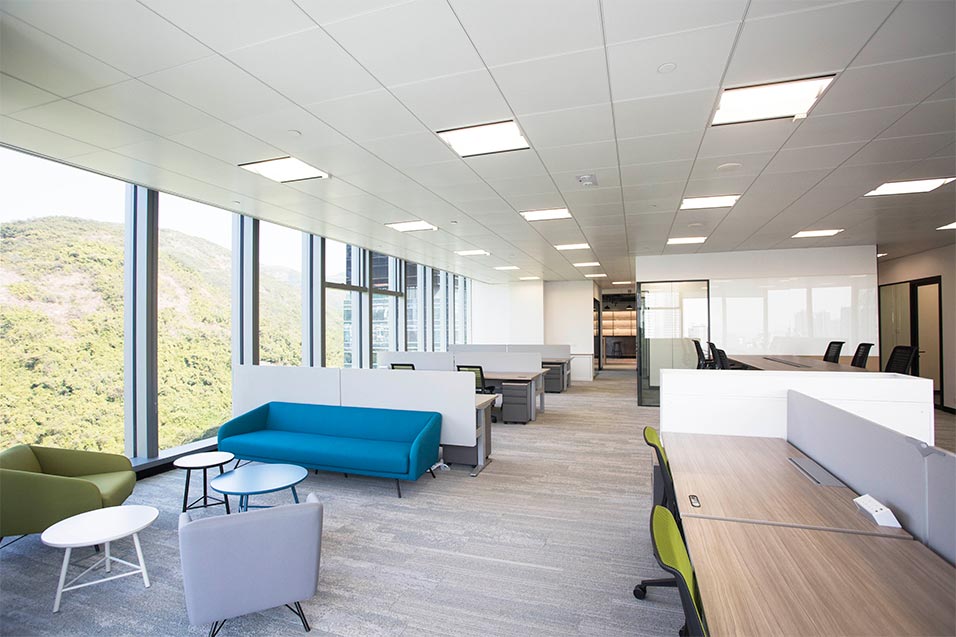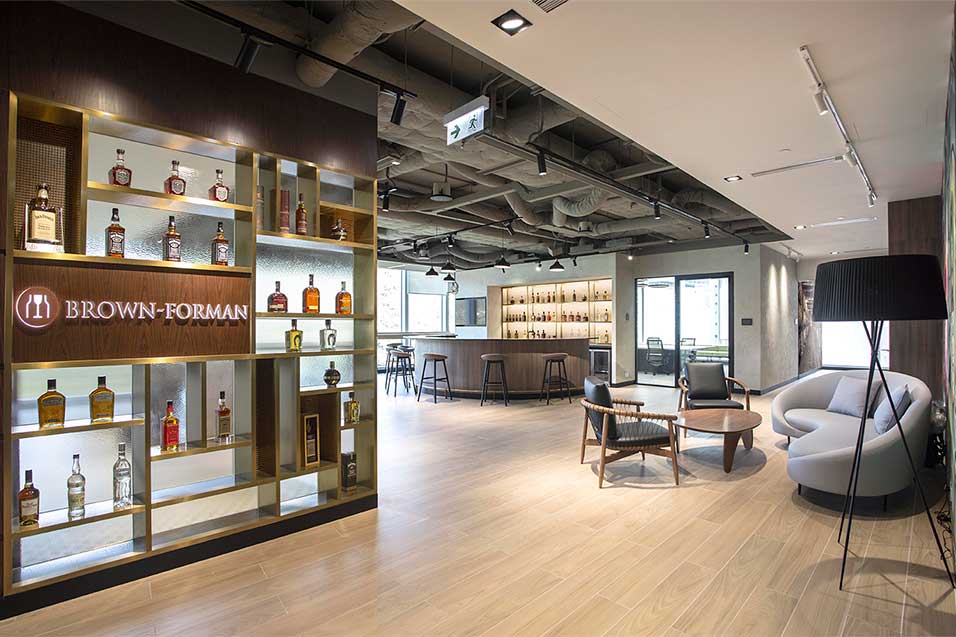 Challenge
Brown-Forman – the parent company and distributer of iconic wine and spirits brands including the Jack Daniel's and Old Forester whiskies – envisioned a new sales office in Hong Kong that their employees not only feel inspired to work in but also to socialise in.  
The opportunity to revamp their workplace came as the company relocated from Admiralty to South Island Place in the up-and-coming Wong Chuk Hang business district to house their expanding operations.
At the top of their list of needs was a new work café incorporating a bar and pantry at the reception level, giving staff a place to mix and mingle while also acting as an effective event space. In addition, Brown-Forman wanted the space to echo their warm and inviting brand culture.
Approach
Part of the client brief was that each of their offices should draw inspiration from the city in which it is located. The creative process began by browsing Brown-Forman's graphic archives and a classic Hong Kong streetscape mural recreated by a local Hong Kong street artist.
Walled rooms were kept to a minimum to let in more natural light, provide views of the surroundings and encourage the employees to be more mobile around the workplace.
Result
Staff and visitors are greeted by an eye-catching wall display of the client's signature spirits juxtaposed with the original Hong Kong streetscape mural in this communal space. Wooden veneers recycled from decommissioned ships – reminiscent of the oak barrels in which the company's spirits are aged – create a distinctive sophisticated look and evoke a sense of warmth.
By breaking down the walls within the space, employees and visitors can enjoy unobstructed views of the mountains surrounding the office complex from inside the workplace.
An array of focus rooms, collaboration areas, and fixed and stand-sit shared desks can accommodate different working styles.
Brown-Forman's employees have embraced their new office, particularly the collaborative common areas which were designed with them in mind. The bar is now a meeting point where they can mingle and sample a glass of bourbon after hours too!