Office fit-out costs up by 8% year-on-year in India
Mumbai is the most expensive city to fit out offices
The average cost of designing and building workspaces has risen by 8% year-on-year in India, with the average fit-out cost per sqm now ranging from USD814 (INR 61,050) in Mumbai to USD 669 (INR 50,175) in Ahmedabad (least) according to JLL's Asia Pacific Fit-Out Cost Guide 2021/2022. Mumbai is one of the most expensive cities to fit out in India.
The global real estate firm reported that the factors behind the price increases in most markets are due to direct implications of the pandemic, such as supply chain disruptions, labour shortages, material availability and the rising cost of raw materials.

MV Harish, Executive Managing Director, Project Development Services, JLL India stated, "As most organisations open their offices for re-entry, we're seeing a significant jump in pricing for office fit-outs. Given the progress of the nation's vaccine rollout, fiscal spending is likely to remain elevated as the recovery is still prone to setbacks. Consumption and investment should improve as restrictions ease."

"Material availability and disruption in the supply chain are predicted to be the biggest cost drivers for 2022. Increased competition and aggressive pricing of margins in cities such as Pune, where contractors are chasing reduced work, may offset some of these price hikes," he further added.

JLL research reveals that over the next 12 months higher spending will be witnessed in areas of audio visual (AV), M&E, sustainability, furniture, wellness facilities and partitions. According to the report, the top three areas that business leaders have earmarked for further investment in 2022 are technology and audio-visual tools, mechanical and electrical facilities, like sensors and filtration, and sustainability features, such as rooftop gardens, indoor greenery and water conservation.

Average 2021/2022 office fit-out cost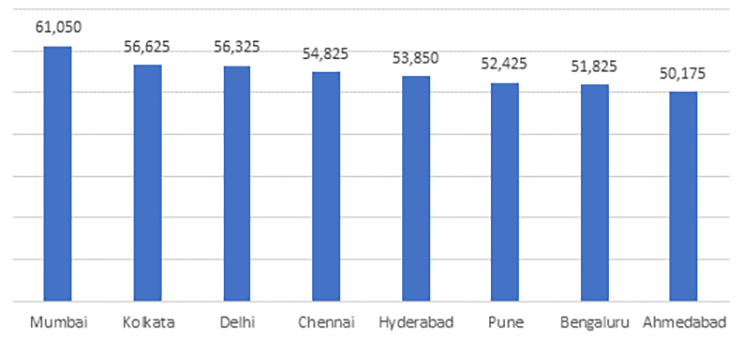 As per the findings of JLL research, Mumbai is the most expensive city to fit-out offices having maximum average fit-out office cost of INR 61,050 per sqm, followed by Kolkata and Delhi with average fit-out office cost of INR 56,625 and INR 56,325 per sqm respectively.
Sustainability will shape the future of office design

Despite rising costs, office design will continue to feature strongly on many companies' agendas in the year ahead.

The building environment is in the epicentre of all the environmental and social impacts. The built environment currently accounts for almost 40% of carbon emissions. Building developments are responsible for 50% of raw materials consumed globally. Decarbonizing the built environment is a top priority. Real estate is key to both making net zero goals a reality and driving economic and social equality. Adopting sustainable construction practices will help in preserving our scare resources for our future generations and construction activities will have lesser impact on the environment.

With more and more employees wanting to get involved in their organization's sustainability initiatives, we will see a significant acceleration of sustainability initiatives which will shape the future of office design. According to JLL's Sustainability in the built environment: An employee perspective" report, 50% of employees expressed a desire to contribute to sustainability agendas to meet future carbon reduction targets, identifying real estate as a major catalyst for carbon reduction.

To download the JLL's Asia Pacific Fit-Out Cost Guide 2021/2022, please click here.

---
JLL (NYSE: JLL) is a leading professional services firm that specializes in real estate and investment management. JLL shapes the future of real estate for a better world by using the most advanced technology to create rewarding opportunities, amazing spaces and sustainable real estate solutions for our clients, our people and our communities. JLL is a Fortune 500 company with annual revenue of $16.6 billion in 2020, operations in over 80 countries and a global workforce of more than 95,000 as of September 30, 2021. JLL is the brand name, and a registered trademark, of Jones Lang LaSalle Incorporated. For further information, visit jll.com.
JLL is India's premier and largest professional services firm specialising in real estate. The Firm has grown from strength to strength in India for the past two decades. JLL India has an extensive presence across 10 major cities (Mumbai, Delhi NCR, Bengaluru, Pune, Chennai, Hyderabad, Kolkata, Ahmedabad, Kochi and Coimbatore) and over 130 tier-II and III markets with a cumulative strength of close to 12,000 professionals. The Firm provides investors, developers, local corporates and multinational companies with a comprehensive range of services. These include leasing, capital markets, research & advisory, transaction management, project development, facility management and property & asset management. These services cover various asset classes such as commercial, industrial, warehouse and logistics, data centres, residential, retail, hospitality, healthcare, senior living, and education. For further information, please visit jll.co.in.