Transact: Acquiring land or leasing a built space in India?
Integrated solutions to guide your manufacturing strategy from concept to operation
With growing investment opportunities and newer technology solutions, the manufacturing landscape has become more sophisticated and client-centric. Consequently, multiple options are available depending on a manufacturer's requirements, industry, and scale of operations. Market dynamics are changing rapidly, and new trends are emerging in manufacturing. It's, therefore, imperative to choose a space that's best suited for your needs. 
Options to set up a manufacturing unit
A manufacturer can either acquire land or opt for built spaces.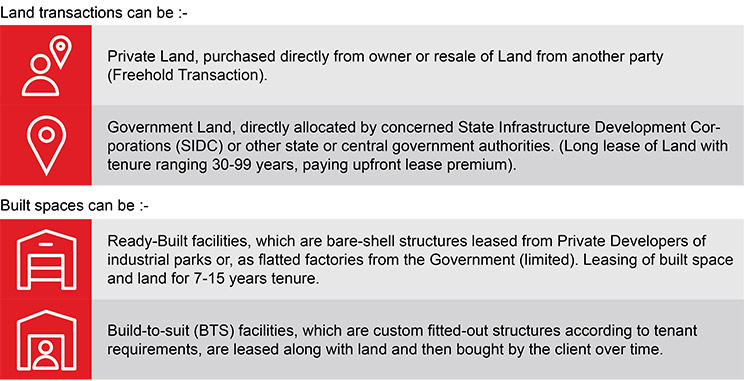 Looking for more insights? Never miss an update.
The latest news, insights and opportunities from global commercial real estate markets straight to your inbox.
Comparative timeline of transaction processes
Comparing the timelines involved in the four transactions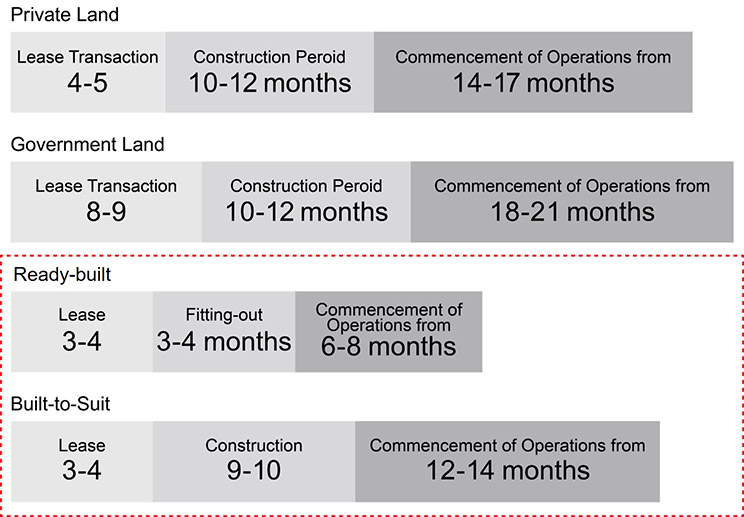 For a manufacturer, acquiring land and constructing the unit is usually a lengthier process than opting for built spaces. Evaluating the best option between the two is, therefore, crucial in project lifecycle calculation, especially for light manufacturing that can be easily accommodated in built spaces.
Some key concerns are mitigated when a manufacturer opts for built spaces.
Compressed timeline and faster commencement of operations: From leasing to plant commissioning, it takes 12-14 months if a manufacturer opts for built-to-suit facility and 6-8 months in the case of a ready-built unit. Leasing land and constructing a site takes longer – around 17-21 months. Manufacturers can, thus, save CAPEX and OPEX if they opt for built spaces.


The ready-built spaces are asset-light and conform to client specifications.


Built spaces are typically located within large industrial parks and benefit from the landlord taking care of the facility management that optimises OPEX.
Light manufacturing clients have an affinity for ready-built and build-to-suit options, as they help to increase efficient business planning and strategies.
Current Market Trends in Built Spaces

A deeper dive unveils sectors that have caught on to the trend in the past 18 months.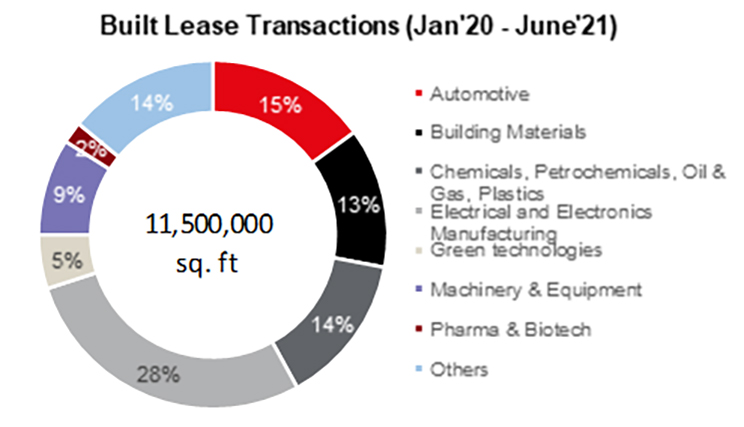 Source: JLL Research
*Note: Top 8 Indian cities taken for Transaction details
Major sectors like electronics and electrical manufacturing (28%), automotive (15%), chemicals and plastics ancillaries (14%) and building materials (13%) have the potential for mid-sized light manufacturing units (especially ancillary and component manufacturing – segments of upstream integration). They have been early catchers of the trend as they can be accommodated within built spaces.
Another emerging sector, the manufacturing of "renewables" (including solar PV, windmill component, etc.), included in the green technologies sector, has redefined the spatial requirements of manufacturing facilities. These spaces demand a different set of requirements. In wind-energy equipment manufacturing, for example, over 65-70% of land accounts for open space for storage of over-dimensional and overweight cargo. 
*The built space transactions for light manufacturing in India amounted to ~11.5 million sq. ft. in the past 18 months.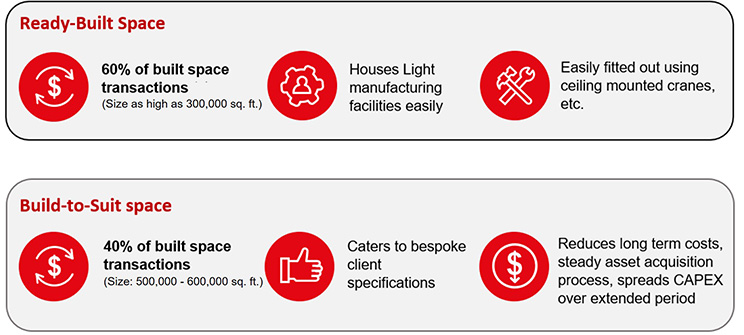 *Similar market dynamics is expected to continue in H2 2021, resulting in built space transactions to reach around 18 million sq. ft. within two years (by 2021-end )
Emerging Trends in Manufacturing Spaces
There is an increasing trend of properties with a combination of manufacturing/warehouse space and associated office/experience centers. These have emerged as a gateway to the industrial real estate realm as they are highly versatile and can house multiple relevant operations.
These multi-use spaces often lead to:

Similar companies grouping together, building an ecosystem and sharing utilities
Centralised operations for small businesses
Savings in transportation and logistics costs

The flexibility of floor-to-desk task integration



More convenient as there is no hassle of developing a large land. Instead, the developer coordinates the process of land acquisition, design, construction and deals with the operational issues.
Many international corporates have shown interest in diversifying their manufacturing locations in India by adopting such spaces as it enables conversion of their CAPEX (land and construction cost) to OPEX (rent).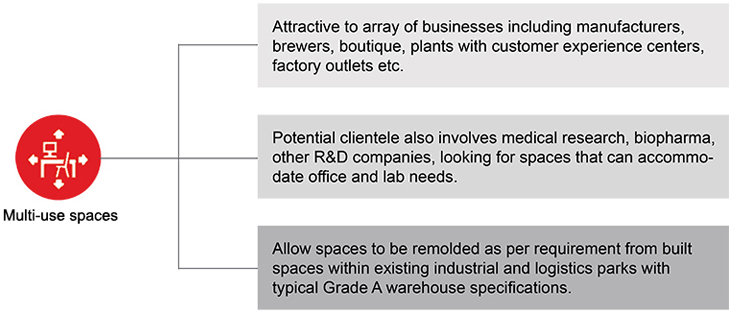 A Plug-and-play rental plant is another new-age solution for light manufacturing. It acts as 'incubator spaces' for commencing operations from the zeroth day until the lease transaction is completed. The occupier can ramp up production once it shifts to the actual facility.


Occupiers achieve higher profits and operational efficiency, as these spaces enable immediate manufacturing operations. For light manufacturing units evaluating built spaces, plug-and-play units are better than the traditional route of acquiring land and developing the facility ground up.
Other Emerging Trends
New concepts include those that enable higher automation, modular construction with advanced technology, and aligning with ESG (Environmental, Social, and Governance) principles to ensure clean and green operations, helping tenants identify material risks, future proof, and continued growth opportunities.
Your next read (Article 4 of 6)
'Ascertain: Due Diligence'
We will discuss legal and technical aspects in real estate due diligence before manufacturing investments are realised and operations commence.
Business Enquiry:
Yogesh Shevade – Head, Logistics & Industrial, India, JLL
Authors:
Aritra Das – Manager, Logistics & Industrial, India, JLL

Parvathy Ravindran – Executive, Logistics & Industrial, India, JLL
Acknowledgement:
We would also like to acknowledge the strategic and critical data inputs from Chandranath Dey, Sujash Bera, Charmy Shah and Haavani Kapadia.
Contact Yogesh Shevade
Head, Logistics & Industrial,
India, JLL
What's your investment ambition?
Uncover opportunities and capital sources all over the world and discover how we can help you achieve your investment goals.