Data Centres: Building blocks of digital revolution in India
A Nxtra by Airtel-JLL Report
The data centre industry in India is growing at a fast clip as the country's data consumption is on the rise. The industry's capacity could cross the 1 GW mark by 2023—double of what it was (499 MW) as of H1 2021.
The convergence of enterprises undergoing digital transformation, government's digital initiatives, data storage and privacy regulations, and operators wanting to serve other markets from India are giving a structural push to the industry. All this coupled with the rollout of 5G, ever-rising use of data, cloud consumption and real-time applications, would usher high growth over the next few years.

Just one of the many indicators—the increase in average traffic per smartphone—is enough to show the industry's growth trajectory. According to estimates, the average data consumption will rise over three times to 50 gigabytes (GB) per month in 2027 compared to 14.73 GB as of October 2021.

Due to its natural resources, strategic location, competitive costs, skilled resources and large user market, India can be the global data centre hub.

Government and Regulatory Support

Following the industry's prospects, companies are adopting different strategies to scale and capture a pie of the country's digital growth. Data centre operators, for example, acquired land parcels at key hubs to provide scalable and seamless options to their clients. It has led to land price appreciation in data centre hubs. Cloud companies with self-build plans, on the other hand, are in the process of acquiring land at new locations in line with their growth strategy.

Even governments are keen to support the industry. The Centre has introduced the Draft Data Centre Policy. The grant of infrastructure status to the industry will further accelerate DC expansion due to the availability of long-term credit at competitive rates.

State governments, too, have released their separate data centre policies, offering attractive packages. Tamil Nadu, for example, wants to be the obvious choice for operators when they think of setting up a new centre. Its capital city is already one of the cheapest destinations to set up data centre in the country.
The government will provide power, land and connectivity infrastructure along with fiscal and non-fiscal incentives. The policy offers 50-100% exemption from stamp duty and eligibility for a 100% subsidy of electricity tax on power purchased from the state utility. Besides these, it also offers preferential public procurements, open access to draw power, uninterrupted redundant power, and water supply connections with specific building codes for data centres. The state is establishing a single-window clearance system with exemption from inspection under The Wage Act to ensure it ranks high on ease of doing business parameters.

Telangana has had a data centre policy in place for some years now.

There is a lot of action in the sector from policymakers, investors, operators, regulators, enterprises and cloud players.

Top Cities for Data Centres

Coastal cities like Mumbai and Chennai are leading the race as they have the inherent advantage of a dense wet cable ecosystem offering the best global latencies. Mumbai has been the front runner due to its central location, reliable power and cable landing stations. Of the 499 MW inventory, the city accounts for 45% and had the highest number of cable landings.

Chennai is growing as an alternative and is currently the second-best option to set up data centres. The city has the presence of global BFSI (banking, financial services and insurance) companies, a solid manufacturing base and lower set-up costs. Its strategic location, with lower global latency, especially to APAC countries, has attracted the attention of many operators to the southern state capital.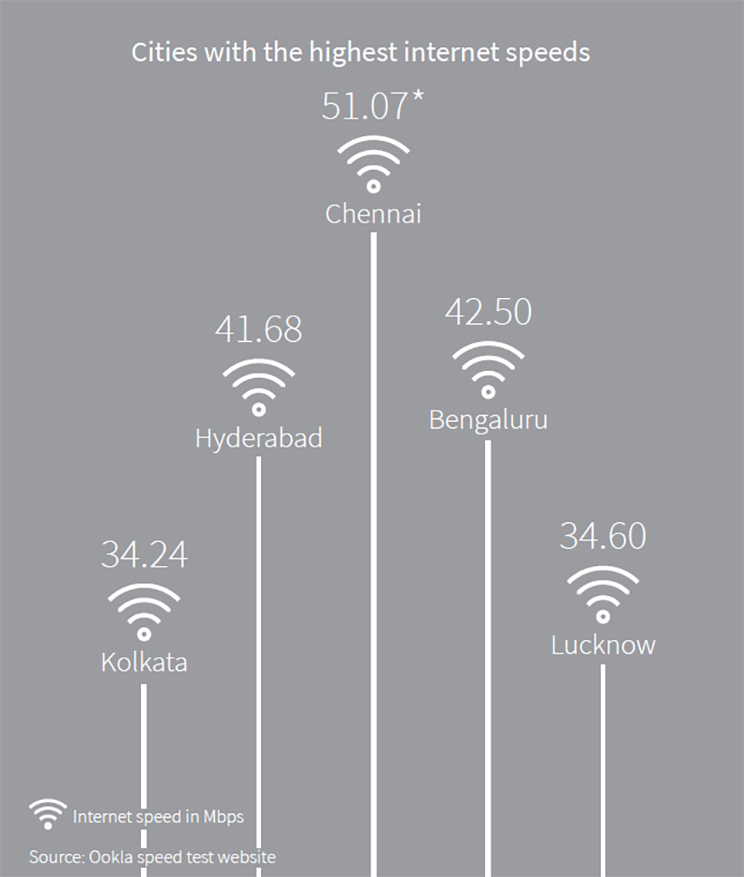 Other states, too, have witnessed the action. In recent years, National Capital Region (Delhi) has seen growth due to regulatory incentives and the potential for a great demand from government organisations setting public community cloud. Pune has also shaped up as a redundancy option for Mumbai due to its proximity to the financial capital and better risk profile as it's landlocked.
Bengaluru has a higher proportion of on-premises data centres from major global companies and domestic IT firms. Kolkata, located in the densely populated eastern region, is expected to have a new cable landing station in the next few years and will emerge as an important location.

The Future is bright

Digital transformation in India is expected a create an economic value of USD 1 trillion by 2025. Data centres along with robust telecom infrastructure will be the key levers driving this wave. Thrust by governments and the pandemic has added significant momentum to this growth.

The data centre industry will be an essential part of India's transformational and digital story that will provide jobs, community development and a cyclic economy.

Key Trends in the Industry

Strong demand from enterprises: Enterprises are accelerating digitalisation and scaling up their IT infrastructure. It has led to strong demand for colocation centres and cloud facilities that offer scalability, security and connectivity at lower costs.

Rising land banks: Operators are adopting a large land acquisition strategy. It would provide occupiers flexibility in availability zones (AZs), fiber pathways and power provisions—all of which is required for a large-scale expansion in less time.

Getting 5G ready: The telecom industry has been gearing to roll out the 5G services—the three telecom players have already started field trials. The median downloads speeds in 5G technology are expected to be 10 times faster than 4G-LTE. This will lead to a sharp rise in data usage and related applications that would rely on data centres.

Exponential cloud demand: Demand for the cloud has been growing exponentially due to increasing digital usage emerging from the distributed workforce, data security and business disruptions.

Growing commitment from investors and global operators: Commitments have been on the rise, and many investors and operators have announced joint ventures to set up new data centres.

Sustainability gains prominence: The rapid growth of the DC industry means an increase in energy consumption, which impacts the environment. Global cloud companies setting up bases in India aim to reduce their carbon footprint. They are looking at data centres that provide sustainable energy. The data centre industry is expected to be more power-efficient as sustainability gains more prominence among businesses. Sustainability is going mainstream in the data centre industry, and green spending would gain momentum.
About Nxtra by Airtel
Nxtra by Airtel, a subsidiary of Bharti Airtel Limited, offers largest network of secure, scalable, and sustainable data centers in India to leading enterprises, hyperscalers, start-ups, SMEs and governments. Being associated with both data center and telecom industry for more than 2 decades, we provide a platform of hyper connected state-of-the art core and edge data centers across 120+ locations. We enable businesses to accelerate their digital journey and host their applications closer to their customers than ever before. For further information, visit nxtra.in
Fill out this form to download report