Great places for manufacturing in India
World-class destinations for multi-nationals
A handbook to investment destinations in India and exploring India's manufacturing landscape
As businesses worldwide revisit their operation and future strategy with a special focus on Business Continuity Plans, India presents a unique opportunity of driving a new era of industrialization. While the COVID-19 pandemic has globally impact economies, but within this situation also there are opportunities. One of them being the big push to manufacturing and the ease of doing business to propel the country into a global hub.
Recent initiatives by the Government to boost both domestic manufacturing and international investments include attractive incentives to amplify capital expenditure, increased production, employment creation and encourage exports and exemption of customs duties under several schemes all aimed at making India preferred destination for multi-national companies and tap new opportunities arising from businesses looking at new geographies to expand. 
Apart from land at strategic locations, India now offers asset light Plug-n-Play manufacturing facilities or Flex Manufacturing with fast approvals and high quality specification of manufacturing building of lease for companies considering fast relocation.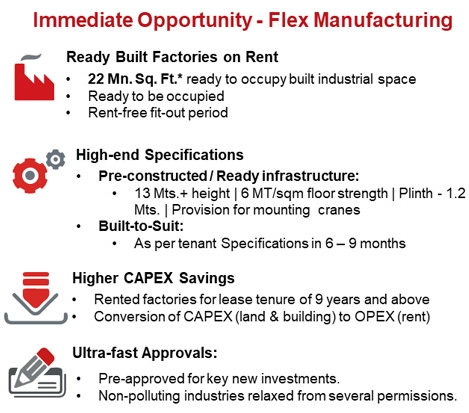 This report is intended as a handbook for India's existing and potential investors as means to encourage more investments in the country. It delves in detail the manufacturing landscape of India with comprehensive information on the advantages in incentives, ecosystem, existing manufacturing operators and key government initiatives and enablers present in the ten established manufacturing hubs.
Read the report for more insights. 
Fill out this form to download report