Built space transactions in warehousing at approx. 18 million sq. ft in the last two years
Demand for built spaces has gained strength since 2020
Mumbai, 09 February 2022: Indian built space sector ended the second year since the onset of the pandemic (CY 2020-2021) at 18 million sq ft in 2021. Demand for built spaces has gained strength since 2020 with the absorption of 11.5 million sq ft till the first half of Calendar Year (CY21) in the top eight metro cities. Similar market dynamics continued in H2 CY2021, resulting in built space transactions reaching around 18 million sq. ft at the end of December 2021. Built spaces here mainly include either ready build spaces or custom-built spaces. These spaces are used mainly for the setting up of light manufacturing units.
There has been increased inclination by manufacturers (especially, light manufacturing clients) to opt for built spaces (ready built spaces or built–to–suit spaces).
Buid Lease Transactions (Jan '20 - June '21)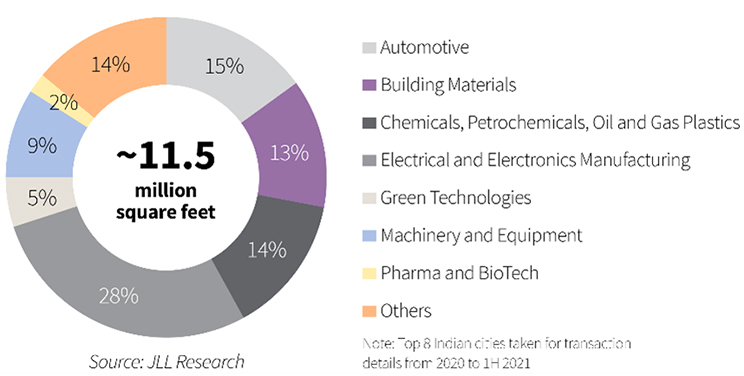 "The key benefit of opting for built space is the risk mitigation due to developed ecosystem and faster commencement of operations for the manufacturer, which otherwise can be a lengthier process. The built spaces model is best suited for light manufacturers as these can be easily accommodated. With a pick-up in demand and increase in industrial parks, there will be a growing demand for ready-built and built-to-suit options as they enable efficient business planning" said Yogesh Shevade – Head, Logistics & Industrial, India, JLL.
60% of built space transactions (size as large as 300,000 sq. ft.) are from the ready-built spaces, and the remaining 40% of built-space transactions (size between 500,000 – 600,000 sq. ft.) belong to the build-to-suit space.
Major sectors like electronics and electrical manufacturing (28%), automotive (15%), chemicals and plastics ancillaries (14%), and building materials (13%) have the potential for mid-sized light manufacturing units (especially ancillary and component manufacturing – segments of upstream integration). As they can be accommodated within built spaces, they have been early catchers of the trend.
Another emerging sector, the manufacturing of "renewables" (including solar PV, windmill component, etc.), included in the green technologies sector, has redefined the spatial requirements of manufacturing facilities. These spaces demand a different set of requirements. For example, in wind-energy equipment manufacturing, over 65-70% of land accounts for open space for over-dimensional and overweight cargo storage.
Flex spaces in Manufacturing
Flex spaces or flexible spaces have emerged as most useful in industrial real estate as these spaces are highly versatile and can house multiple businesses. Flex spaces are properties with a combination of manufacturing/warehouse space and associated office/retail space.
Flex spaces often lead to:

Similar companies grouping themselves building an ecosystem and sharing utilities
Centralised operations for small businesses
Savings in transportation and logistics costs
The flexibility of floor-to-desk task integration
More convenient as there is no hassle of developing a large land. Instead, a single developer coordinates the process of land acquisition, design, construction and deals with the operational issues.
Many international manufacturing players have shown interest in diversifying their manufacturing locations in India by adopting flex spaces to convert their CAPEX (land and construction cost) to OPEX (rent). A Plug-and-play rental plant is another new-age solution for light manufacturing. It acts as 'incubator spaces' for commencing operations from the zeroth day until the lease transaction is completed. The occupier can ramp up production once it shifts to the actual facility. These new-age solutions have helped occupiers achieve higher profits and operational efficiency. In addition, these spaces enable immediate manufacturing operations and are often better than the traditional route of acquiring land and developing the facility ground up.
---
JLL (NYSE: JLL) is a leading professional services firm that specializes in real estate and investment management. JLL shapes the future of real estate for a better world by using the most advanced technology to create rewarding opportunities, amazing spaces and sustainable real estate solutions for our clients, our people and our communities. JLL is a Fortune 500 company with annual revenue of $19.4 billion, operations in over 80 countries and a global workforce of more than 98,000 as of December 31, 2021. JLL is the brand name, and a registered trademark, of Jones Lang LaSalle Incorporated. For further information, visit jll.com.
JLL is India's premier and largest professional services firm specialising in real estate. The Firm has grown from strength to strength in India for the past two decades. JLL India has an extensive presence across 10 major cities (Mumbai, Delhi NCR, Bengaluru, Pune, Chennai, Hyderabad, Kolkata, Ahmedabad, Kochi and Coimbatore) and over 130 tier-II and III markets with a cumulative strength of close to 12,000 professionals. The Firm provides investors, developers, local corporates and multinational companies with a comprehensive range of services. These include leasing, capital markets, research & advisory, transaction management, project development, facility management and property & asset management. These services cover various asset classes such as commercial, industrial, warehouse and logistics, data centres, residential, retail, hospitality, healthcare, senior living, and education. For further information, please visit jll.co.in.