Enhance the value
of your assets
By not maximising the performance of your building - are you leaving money on the table?
The real estate world has changed. Investors are forced to operate in an increasingly challenging environment, where end-user behaviours and preferences are evolving faster than ever before. This has resulted in a growing opportunity to enhance and reposition assets for increased value.
We help our clients improve the performance of their assets, increase revenue and reduce operating costs. We determine gaps in building performance and leverage our extensive market knowledge and technical expertise to develop and implement optimised solutions, that meet our clients' financial, environmental and social objectives.
Asset performance
evaluation
We help our clients estimate qualitatively and quantitively, and work closely with our global research  teams to look at future demand and value drivers.
We evaluate the performance of the existing building across a range of factors to create a baseline. We then compare the baseline performance with existing competitor buildings, new buildings and market demand to identify and quantify the performance gaps. After that, we model the potential upside in financial performance that come from closing these gaps.
Our tailored solution considers every angle to close the gaps and deliver the best return on investment. We evaluate and benchmark the performance of your asset, and then compare it with existing (and future) market leading buildings. We undertake a gap analysis and through a process of financial modelling, sensitivity analysis and scenario planning, we arrive at the solution that best meets your aspirations for the asset. Solutions can range from light touch refurbishments to more extensive upgrades (amenities, sustainability, technology, operational performance), repositioning (new brand, placemaking, tenant mix) and repurposing (partial or complete change of use) and even redevelopment.
We prepare an appropriate phasing plan, and procure and implement the works efficiently to avoid disturbance to existing tenants. We then help our clients to market the enhanced building and maximise improved leasing opportunities. We also help our clients with operations and maintenance to enhance the entire tenant experience.
Finally, we help our clients to sell the asset for capital gain, or hold the asset for increased and sustainable rental income.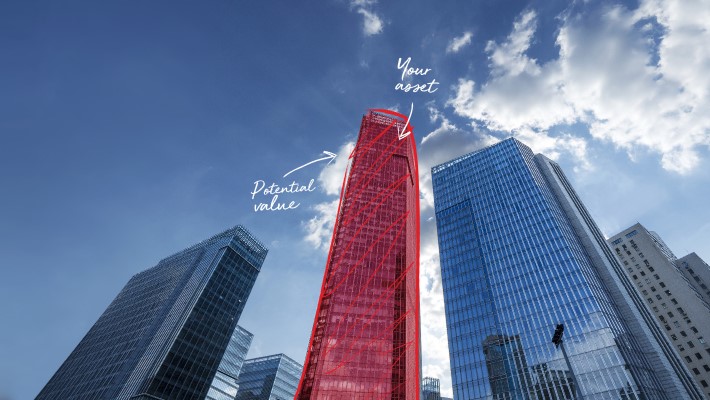 Get the insights you need.
In this guide we identify key trends, new value drivers and asset enhancement strategies for a number of different asset classes, as well as look at the most effective approaches for how to unlock additional value from existing assets.
How can JLL and this solution help me?
Our solution comprises market research, supply and demand analysis, technical due diligence, asset perfromance evaluation, portfolio optimisation and asset enhancement. We combine large amounts of benchmark performance data together with expertise and insight from real estate professionals including research, valuations, leasing, capital markets, capital projects, sustainability, proptech, property and facility management.
We help you benchmark the physical and financial performance of your assets against both existing and future competitor buildings. By leveraging our huge amount of asset data and applying our real estate expertise, we can help you make informed decisions about the optimum scope of asset enhancement to give you the outcomes you are targeting.  We help you avoid missing valuable upside opportunities whilst also protecting against over-investing in an asset to prevent sub-optimal returns.
Our solution comprises a range of integrated and value adding services that are unique for two reasons: firstly the volume of data and extent of its analytics and secondly the breadth and depth of real estate expertise that supports it.
Accuracy and speed of results.
Data rich and transparent approach facilitating business cases, better investment decisions and funding.
Typical outcomes include improved customer experience, reduced vacancy rates, increased revenue, improved reslience, reduced operating costs, reduced maintenance issues.
With our extensive coverage throughout the Asia-Pacific region, we are able to implement our asset enhancement solution, either locally, from one of our 42 offices in the region, or on a visiting basis.
Yes, whilst our solution was originally designed with existing buildings in mind, the research, metrics and market data can be leveraged to guide design teams in terms of the features, amenities, and performance standards that will enable a new build to compete with other buildings and potentially achieve a market leading / futureproofed position resulting in superior and sustainable value.
Learn more about how we can help you unlock value from your aging or underperforming assets, and help you stay ahead of competition.
PRIVACY NOTICE
Jones Lang LaSalle (JLL), together with its subsidiaries and affiliates, is a leading global provider of real estate and investment management services. We take our responsibility to protect the personal information provided to us seriously.
Generally the personal information we collect from you are for the purposes of dealing with your enquiry.
We endeavor to keep your personal information secure with appropriate level of security and keep for as long as we need it for legitimate business or legal reasons. We will then delete it safely and securely. For more information about how JLL processes your personal data, please view our privacy statement.