Is hybrid work changing the workplace for good?
Hybrid work is here to stay and so are workplaces, albeit with much change
Going to the office before the pandemic used to be an everyday routine for employees. These days, it's become a choice, thanks to the hybrid work model.
Any doubts or concerns over hybrid work were quelled in the early stages of the pandemic. Discussions quickly shifted from if to how organisations should embrace hybrid work, which gives employees the flexibility to work from office or from home.

With restrictions easing as the pandemic recedes, many have plans underway to prepare for their employees' hybrid return to the office — if they want to return at all.

For multinationals like Google which were quick to embrace remote working, the return to the office has not gone quite as planned. The tech giant faced pushback from employees unhappy with having to return to the office three days a week.

This just goes to show an urgent need for organisations to pay more attention to employees' preferences, down to the seemingly minute details.

Understanding the nature of work they want to do or what amenities they expect at the workplace could help transform or redesign the office into a compelling destination that they'll actively want to return to.

So, what does this mean for the role of the workplace, and how will it impact office leasing norms?

Employees first

According to a survey we did last year on the preferences of over 3,000 employees, 63% of them want to work in a hybrid style in the future, with most preferring three days in the office weekly. Yet only 47% are satisfied with their office.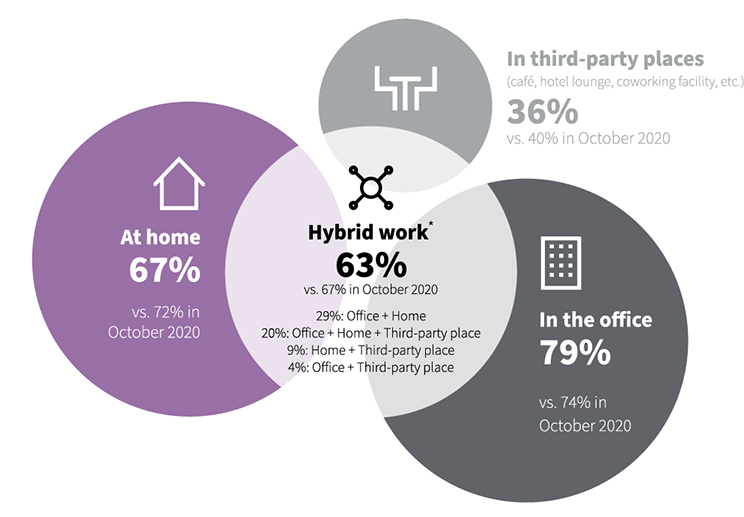 Employees are also increasingly concerned about how the hybrid workplace supports their overall health and wellbeing, and how it fosters collaboration, innovation and engagement with their coworkers.
These needs will continue to evolve as organisations rethink their office design to match employees' expectations of a hybrid workplace. Up to 56% ​of organisations plan to refit or redesign their office space in the next 12 months, according to our recent survey of HR leaders across the region.

Understandably, not all are ready to make sweeping changes to the workplace without a longer-term plan especially with the future shrouded in uncertainty.

For those reevaluating their overall real estate strategies, flex spaces have emerged as an alternative that addresses employees' needs while keeping their real estate portfolios agile.

Think wellness amenities, sustainability features, and state-of-the-art technologies — flex space providers offer occupiers a readymade, cost-effective solution to deliver an enhanced workplace experience.

Flex spaces have taken off in countries like India, due to cost savings and flexible tenures. These spaces continue to attract occupiers as flex stock in the country is expected to rise further by at least 40% to meet the demand over the next two years, JLL data shows.

New normal

Meanwhile, in some markets, office lease terms have shown signs of shortening over the past two years in the wake of pandemic lockdowns.

Average lease terms in the U.S., for instance, fell 15% in the early months of the pandemic. A similar trend played out in Australia, where the average office lease term in 2021 fell nearly 12% to 57.7 months from 65.4 months before the pandemic.

While our latest data indicates a steady return of lease terms to 2019 levels, organisations grappling with an ideal working model could remain hesitant to commit.

Drawing lessons from the pandemic, some may want to avoid being tied down by long-term leases that restrict their ability to pivot or adapt to crises and sudden changes in market conditions. Shorter leases offer them the maximum level of flexibility to weigh up their options in the transition to hybrid work.

Whether the leasing trend will persist is still unclear, but one thing I can say for sure: hybrid work is most definitely here to stay.

The onus is on organisations to actively listen to their employees, rethink the role of the hybrid office, and ultimately recalibrate their real estate leasing strategies for the future.
Need help evaluating your office leasing needs? Speak with a JLL expert today.